Hall-Of-Fame Customizer

Arlen Ness

Turned Sheet Metal Into Rolling Motorcycle Art

Vorige week stierf  Arlen Ness. De Californiër was één van de grondleggers van de custombouw. Ness creëerde geen clichématige choppers met ellenlange voorvorken, maar wel custom machines met koetswerken die aan auto's uit de jaren '30 deden denken, met hier en daar een knipoog naar Ettore Bugatti.

Ness has been customizing motorcycles ever since he bought his first one, a 1947 Harley-Davidson knucklehead, with money he earned from semi-professional bowling. He has been a significant influence on the art of custom American cruisers as we know it today. He started customizing bikes in his California garage in 1970 while holding down a day job of installing aluminum doors and windows. A few years later he opened his own shop in Dublin, CA, specializing in custom builds, paint jobs, and parts. He's been living the dream ever since.
The company soon grew beyond Arlen himself, becoming and remaining very much a family business over the years. His son, Cory, and grandson, Zach, have followed in his footsteps, working on bikes and continuing the family tradition at Arlen Ness Motorcycles. Arlen Ness Motorcycles grew to not only customize bikes, but also to provide custom parts for Harley-Davidson, Indian, and Victory motorcycles. The company also opened a museum to show off the company's work.

Not only Arlen Ness dedicated his life at building bikes, as well as giving his name to bike models from big manufacturers like Victory and Indian, but he also ended up creating a clothing brand of his own. The business did so well that his son Cory and his nephew Zach also joined the Arlen Ness business, and now run the store.
A man who loved and breathed motorcycles, Arlen Ness passed away this past week in California, but not before he left his legacy in the two-wheeled world. Bikes like the Mach Ness, a futuristic-looking bike, or the Ness Stalgia, a bike that was inspired by the American hot-rods of the '50s, will live on and make sure that future generations of bikers will get inspired by the truly awesome work of Arlen Ness.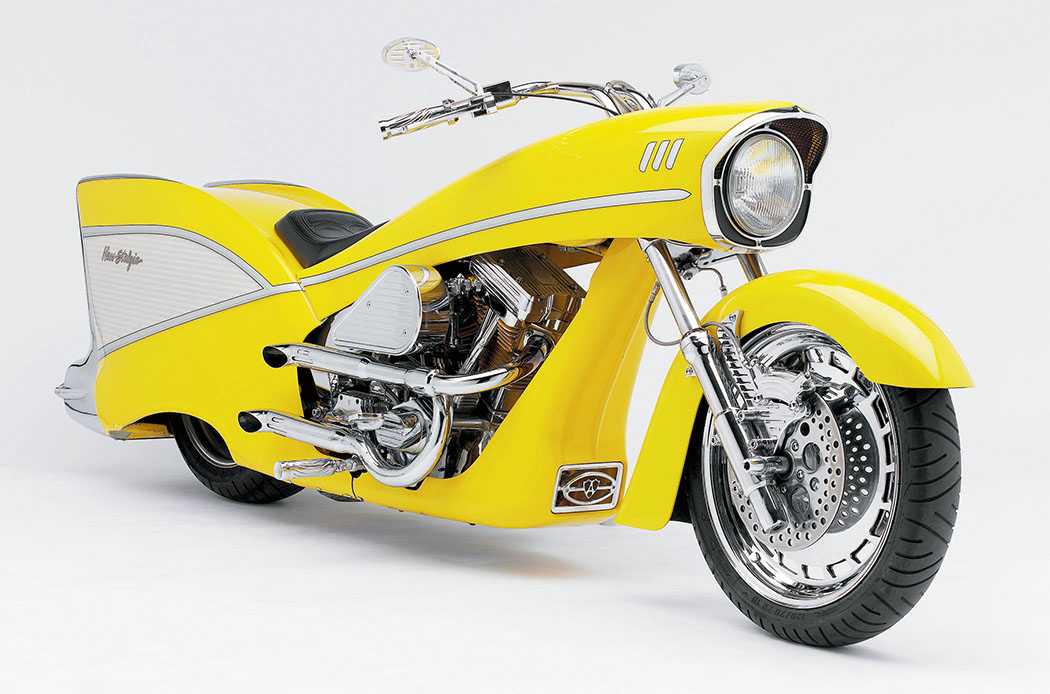 Everyone who knew Arlen has a favorite story of how much the classy, silver-haired customizer was treasured by all. Ness was at the Gibson guitar factory in Nashville, Tennessee, with Donnie Smith and Dave Perewitz to seal a deal for designing an electric guitar and a matching motorcycle. I had proposed this endeavor because motorcycles and rock-'n'-roll seemed like a natural fit.
Now, the guitar makers at Gibson are extremely talented, but they're a jaded bunch who barely look up from their work when a rock star walks by. When Ness came through, however, he was surrounded by Gibson craftsmen, fellow creators of functional beauty, who wanted to be in his presence. Ness enjoyed the company of these working men absolutely as much as they enjoyed his.
The loss of Arlen Ness to the motorcycle world will be much. He'll be missed for his personal vigor and robust enjoyment of life, which motivated everyone around him. At a time when Hollywood trashed the image of motorcycling, Ness was a man of honesty and integrity who raised the image of the sport. Whether it be an industry function or social soiree, Arlen was always the coolest guy in the room. And he was the one everyone wanted to be around.
There are eras in history a lot of us would like to have witnessed. Some wish they could have been around Elvis in his prime for his influence on rock-'n'-roll. Or Mozart in his day for the greatness he imparted on classical music. In that light, many of us can rejoice that we enjoyed the company of Arlen Ness at the beginning of exotic motorcycle customizing and the influence he has had on American design.
Arlen Ness was an icon. The best kind. Godspeed, Arlen.